Home

/
Stormy Daniels case: Trump repaid lawyer 'hush money', says Giuliani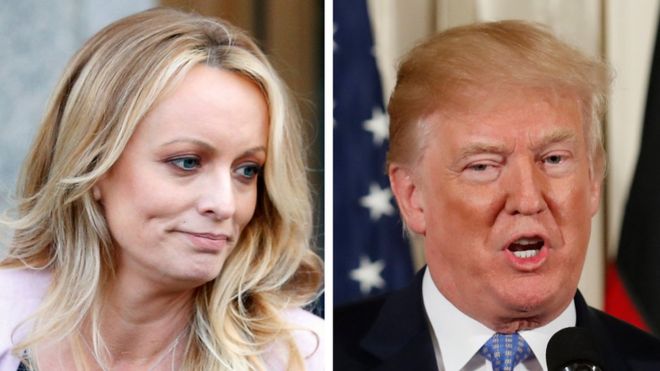 President Donald Trump personally repaid his lawyer the $130,000 that was used to buy an adult film actor's silence about an alleged affair, his legal aide Rudy Giuliani has said.
According to BBC it appears to contradict M.r Trump, who said he did not know about the payment made by lawyer Michael Cohen to Stormy Daniels ahead of the 2016 election.
M.r Trump has denied M.s Daniels' claims of an affair in 2006.
M.r Giuliani said no campaign finance was used, a key issue in the matter.
What did Mr Giuliani say and why?
The former New York City mayor recently joined Mr Trump's legal team and was talking to Sean Hannity on Fox News.
The campaign finance issue appeared to be one his main motives for appearing on the programme – to deny that there was any wrongdoing.
Mr Cohen's $130,000 (£95,650) payment to Ms Daniels just before the 2016 election could count as an illegal contribution to President Trump's campaign.
Mr Giuliani said: "That money was not campaign money. Sorry, I'm giving you a fact now that you don't know. It's not campaign money. No campaign finance violation.
"They funnelled it through a law firm and the president repaid it."
He added that the president "didn't know about the specifics of it, as far as I know, but he did know about the general arrangement that Michael would take care of things like this".
Mr Giuliani later spoke to the New York Times, saying: "Some time after the campaign is over, they set up a reimbursement, $35,000 a month, out of his personal family account." The sum paid was $460,000-$470,000, including expenses, he said.
He also said Mr Trump was aware of what he was going to say on Fox News and that he had spoken to the president before and after the interview.
read more here : http://www.bbc.com/news/world-us-canada-43985260